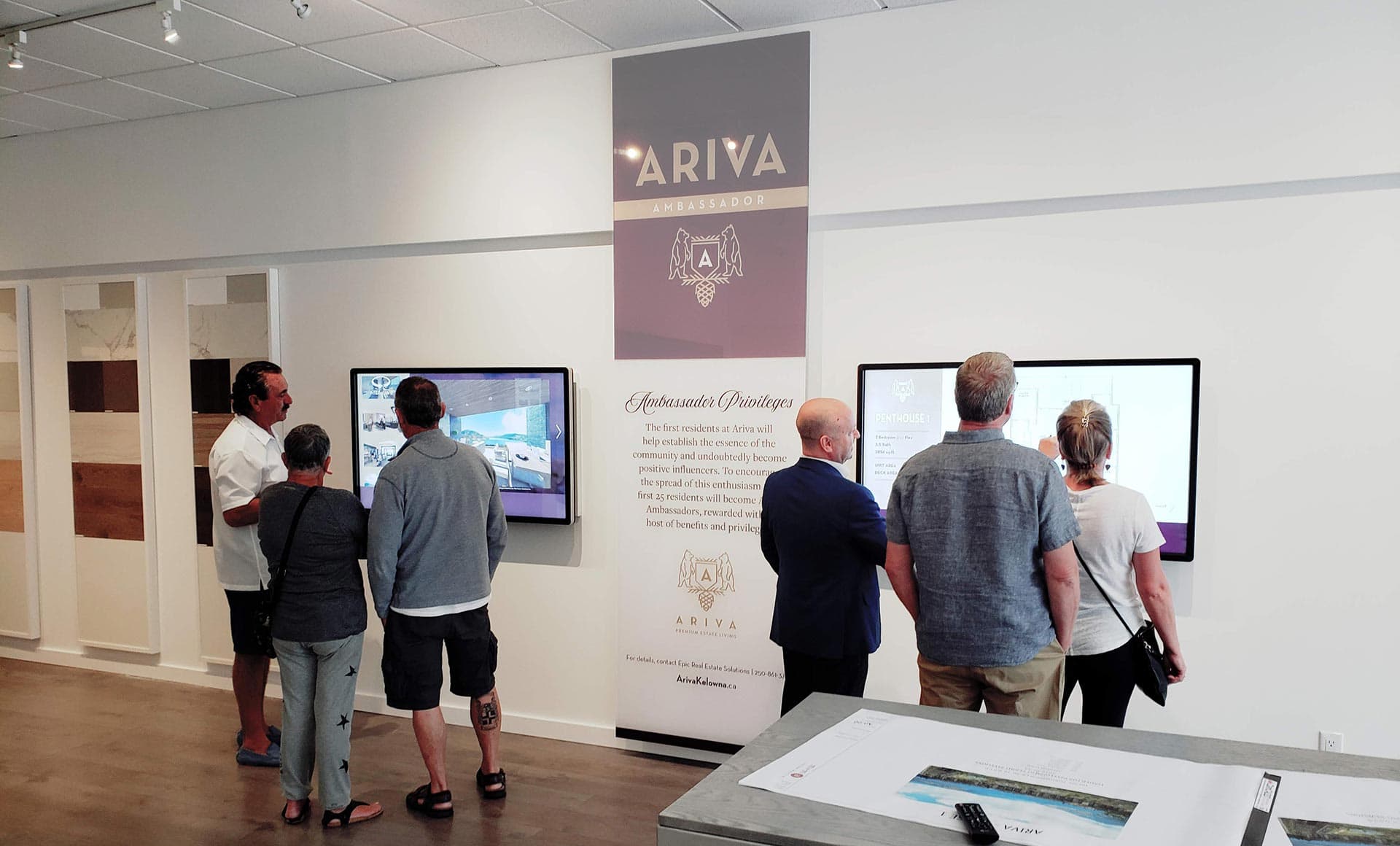 Frequently Asked Questions
PHASE ONE. NOW SELLING.
Frequently Asked Questions
What is Ariva?
Ariva is a beautiful 12.5 acre, lakeview, master-planned, estate community offering Premium Condominiums for those looking to downsize and upgrade. Ariva is located on Old Ferry Wharf Road, just five-minutes from downtown Kelowna, and will offer a plethora of incredible lifestyle amenities. When complete the community will have approximately 200 residences offered in five phases.
What types of homes will be available to purchase?
Ariva will offer a collection of 1, 2, and 3 Bedroom homes with expansive balconies.
What amenities will this community have?
Ariva boasts some of the finest amenities in Kelowna, including a Café Bistro, Wine bar, Social Lounge, Lakeview Terrace, Pool & Cabana, Co-Lab, Fitness Center with a gym & yoga studio, Pickleball & Sports Court, Organic Community Garden, Farm Table Community BBQ plaza, Fire Pits and an Amphitheatre.
What are the prices?
Prices currently range from $489,900 for a one bedroom and flex room to $1,549,900 for a 3 bedroom and flex room penthouse. Detailed prices are available at the Presentation Centre.
What are the Strata fees?
Monthly Strata fees will approximately be from the mid $200's to the high $500's.
Will I have to pay taxes on a home at Ariva?
No Speculation Tax, No GST and No Property Transfer Tax. For example, for a home valued at $850,000 purchased by a Canadian Resident that adds up to over $42,500 in tax savings and for a non-resident Buyer over $200,000 in savings.
Are rentals allowed?
Yes, rentals will be allowed with a minimum 90-day rental requirement.
Are pets allowed?
Yes, Ariva is a pet friendly community.
When will I be able to move in?
Construction of Phase One residences are anticipated to start Spring 2020 with completions estimated to start Summer 2021.
Who is behind Ariva?
Barry Johnson, one of the developers of Predator Ridge and Canadian Adult Communities, has formed a new company with his son Kevin Johnson called Ariva Resorts Ltd.
What will the deposit be?
Ariva requires a 5% deposit initially and 10% when the building permit is issued.
Where can I find out more about the floorplans, features and amenities?
Register on our website at ArivaKelowna.ca or at the presentation center, located at 529 Bernard Street, to ensure you receive up to date information.
Why buy now?
Purchasing now will provide you with the best selection opportunity, introductory pricing, and the opportunity to take advantage of the benefits and perks of our Ambassador Program.
Purchasers in the first phase will have first choice in the following phase.
What is the Ambassador Program?
The first residents at Ariva will help establish the essence of the community and undoubtedly become positive influencers. To encourage the spread of this enthusiasm, the first 25 residents will become Ariva Ambassadors, rewarded with a host of benefits and privileges.
For more information on ARIVA, please email
sales@arivakelowna.ca or call 236.420.0693
Presentation Centre
529 Bernard Avenue, Kelowna BC V1Y 6L7
*Prices are subject to change without notice. Dimensions, layouts and specifications are approximates only and subject to change without notice. E. & O.E. Sales and Marketing provided by Epic Real Estate Solutions Inc. Epicres.com
REGISTER NOW TO RECEIVE ARIVA UPDATES